Bridging Disaster Relief and Social Services: I_TEM project group meets in North Macedonia
Posted on |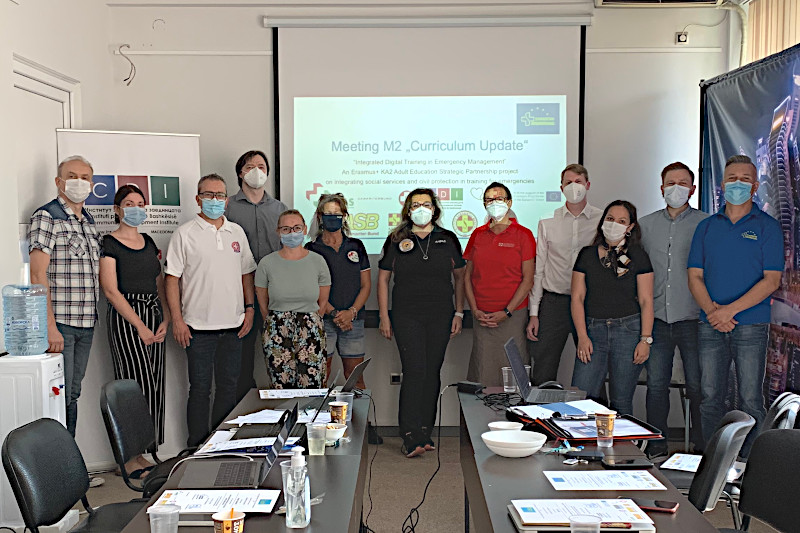 From 26-27 July, the Erasmus+ project I_TEM came together in Tetovo, North Macedonia, for their first in-person meeting. The project works on updating guidelines on social affairs management in emergency temporary shelters from the previous SAMETS project.
After the kick-off of I_TEM had to be moved online earlier this year, the project group met in person for the first time, as encouraging infection numbers as well as vaccinations and/or up-to-date tests of the participants made it safe to do so.
On the agenda was a complete check-up on the guidelines of the previous SAMETS project. SAMETS made recommendations on how to work with four special target groups in emergency shelter situations: children, persons with disabilities, elderly people and people from different cultural backgrounds.
The I_TEM meeting was about checking the recommendations for each of the target group and proposing amendments or changes. A special focus was also on how to make the rules "pandemic proof" – in light of the ongoing Covid-19 pandemic but also to be ready for future challenges with infectious diseases.
Participants came from SAM.I. member organisations that are active in civil protection and disaster relief, but also from many organisations that focus their activities on social services. Contrary to the previous project SAMETS, which was primarily a civil protection project and funded by the European Union's DG ECHO, I_TEM pools the expertise of civil protection and social services from within SAM.I. The SAM.I. members ANPAS, ASB, ASBÖ, ASSR, CDI, LSB, SRCE, and WK are part of the project.
Ultimately, the result of I_TEM will be a blended-learning training course, meant as an extended or further education for volunteers who may be faced with the challenges that the project addresses.
Blended learning, as in a mixture of classical presence-based training with digital elements were useful and appropriate, is another lesson learned from the pandemic, as it helps to reduce personal contact during training. However, volunteer training for such practical tasks can never be conducted entirely online. The next workshops will focus on defining which parts of the training will still require presence and which parts can be supported or substituted with digital educational elements.